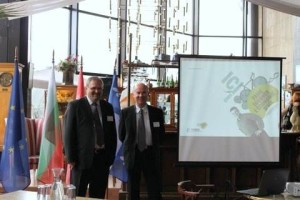 Thursday, July 4th, 2013, the Canada -Bulgaria Business Council held in Sofia its annual business forum on "SMEs: job creators and engines of development."
Mr. Georges Panitchersky, Honorary Consul of the Republic of Bulgaria Quebec and President of the Canada -Bulgaria Business Council, opened the forum and describes its context, its objectives and program. Mr. Russell Merrifield, Commercial Counselor, welcomed participants on behalf of the Embassy of Canada.
Mr. Denis Leclerc, Senior Vice President of Solidarity Fund QFL and president of the Foundation for economic education presented the Fund, as an example for a very successful financing of SMEs and for regional economic development.
A panel discussion was moderated by Mr. Milen Keremedchiev, Executive Director of U.S. Capital Partners and former Deputy Minister of Foreign Affairs of Bulgaria, discussed the problems of Bulgarian SMEs and opportunities to adopt such Fund. The participants in the discussion were as well representatives of the state officials like Mr. Nikola Stoyanov, Executive Director of the State Agency for the promotion of SMEs; the employers like Mr. Petko Dimitrov, vice-president of the Confederation of Employers and Industrialists Bulgarian, and the trade unions: Dr. Konstantin Trenchev, president of the Confederation of Labor Podkrepa and Mr. Nikolay Nenkov, vice president of the Confederation of independent Bulgarian Trade Unions.
Also were present politicians, diplomats, heads of governmental agencies, business associations, private companies, academics and media representatives. Under the Canada -Bulgaria forum were also signed letters of intent for possible partnerships.
The forum, conducted in collaboration with the Solidarity Fund QFL, Arton Capital. EU Capital Partners and Todoroff Wine Cellar, was held at the National Palace of Culture in Sofia, Bulgaria.